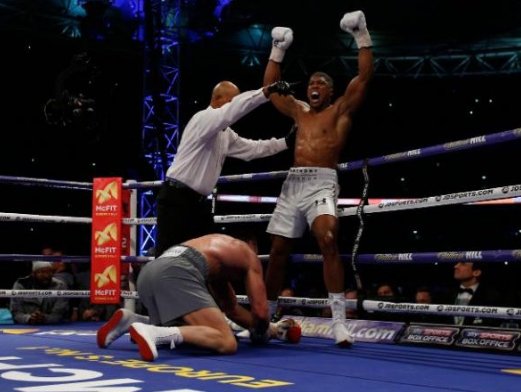 Anthony Joshua, a UK boxer born to Nigerian parents, has knocked out Wladimir Klitschko, his Ukrainian counterpart, in a heavyweight fight at Wembley.
At the time of the stoppage, Joshua was up 96-93 and 95-93 on two cards, with Klitschko leading 95-93 on the other.
With this victory, Joshua has surpassed David Haye's record of being world heavyweight champion for three fights.
Haye is the first British boxer to reach the final of the World Amateur Boxing Championships, where he won a silver medal.
In all his 18 professional contests, undefeated Joshua has never been beyond seven rounds.
Speaking with BBC after the historic fight, Joshua said he came to the ring to hurt his opponent.
"I showed tonight that fights are won in the gym. It gets tough and boxing isn't easy. You have to have the whole package," he said.
"I knew it was possible to hurt him but I am learning round by round. I'm learning under the bright lights.
"I don't come to box, I come to hurt people. With all due respect, I came to hurt him.
"At the end of the day, I figured out what I had to do and got him done.
"I'm going back to my council flat with my family to eat some good food. I'm not going anywhere. I'm coming back to Wembley. For the first time here, thank you and for the second I'll look forward to seeing you here again."
About 90,000 people witnessed the fight.